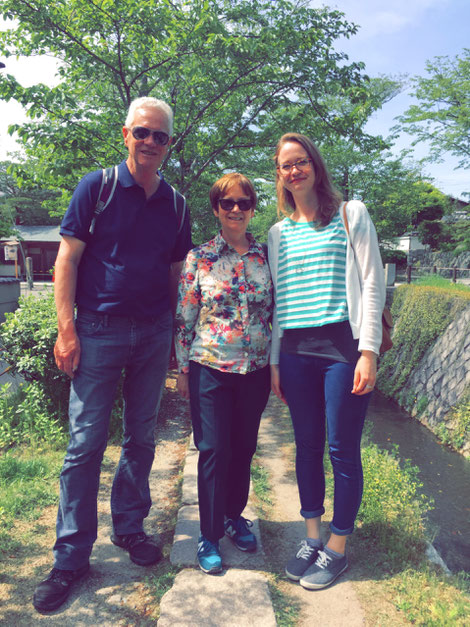 Last Friday, my parents arrived in Japan and have been staying with me in Kobe!
They will stay for nearly 3 weeks so that last few days we have been taking it easy and enjoying the lovely May weather. 
On Sunday we took the cable car up Rokko mountain, and had lunch at the Garden Terrace while enjoying the amazing views of Kobe and Osaka. Then, we walked down the other side to Arima. Although it was much easier going down the mountain than walking up, part of the path had been block by landslides and we had to take a detour! This part was a bit steep, and we all had sore muscles the next day!!
On Tuesday we visited Kyoto. My parents have come to Japan three times already, so they have been to Kinkaku-ji and Kiyomizu-dera before. This time I took them to Nanzen-ji, the Philosophers Path and Ginkaku-ji. Maybe because it was a weekday and not a national holiday, but it was very quiet. We could enjoy the temples and the walk along the river without all the usual Kyoto crowds. It was very peaceful, and my mum and dad, who really like gardening, loved seeing all the flowers and greenery. 
In the evening we went for dinner at a Japanese restaurant near my apartment. Maybe some of you will recognise Reiko sitting next to me! We had a lot of fun chatting and eating delicious sea food. This fish (Isaki) was particularly amazing!! 
I hope you enjoyed reading my blog Next week I'll write about our trip to Kanazawa, so please check it out!