Hi everyone!
Tamara here. It's spring again!
There are many beautiful flowers blooming and it's a nice break from the stresses of daily life, especially during the pandemic.
It's a good reminder that there are still things to be happy and thankful about.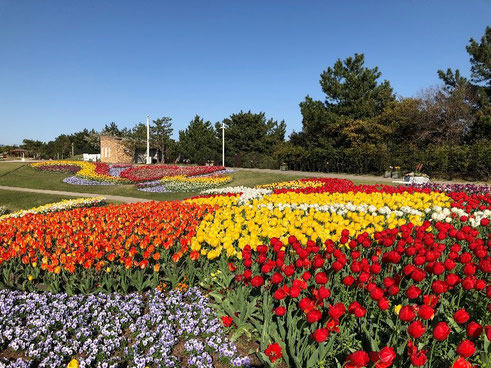 I wanted to go admire some pretty flowers, so we decided to go to Awaji Island's Akashi Kaikyo National Government Park.
It's a big area where you can enjoy many different flowers, and it's not too far from Kobe.
Since it is outdoors and close to the sea, there is also a nice breeze going through the park.
We went on a Monday, so there were only a few people there, and the weather was nice and sunny.
On Awaji Island, there is also a place called Nijigen no Mori park with different Japanese Pop Culture exhibits like a Godzilla Museum and zipline area (you get to zipline straight into Godzilla's head!), a Crayon Shin-chan area (also with its own zipline and slide), and a Naruto area.
Some Dragon Quest exhibits are also being constructed as of the moment, and there's also a glamping area.
I like Godzilla, so it was a treat for me to see the completed Godzilla head. 
Daily life during the pandemic can be very stressful, that's why we need to take a mental break once in a while (like looking at pretty flowers) so that we can handle it better.
Stay healthy everyone, and don't forget to take a break once in a while to recharge.