Shreya講師が初めてのブログを書いてくれました♪
家族との心温まる思い出を、ぜひ読んでみてくださいね!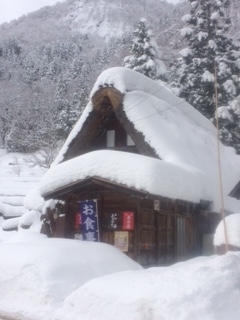 Hi everyone!
Shreya here, it's my first time writing for this blog and I spent ages thinking about what would make a good topic. I've decided to write about a recent trip I took with my parents to Ainokura (相倉), one of the small villages that make up Gokayama (五箇山).
My parents came to visit me in December last year and we spent ten days together travelling around Northern Japan, as my dad and I have been fascinated by the idea of the 'snow country' after reading 雪国 by 川端康成. Ainokura was the last destination on our trip and, to be honest, it was the highlight of our holiday. 
The village itself is quite small and, aside from a museum on the history of the area, there isn't much to do. However, it does represent another side of Japan that can't be found in more touristy areas, such as Tokyo or Kyoto.
More than anything though, this trip was one of my last chances to spend time with my parents before they went back to England. Moving to Japan and adjusting to living alone meant that, when my parents came back into the picture, there was inevitably a lot of friction between us. However, sitting in a small cabin house in Ainokura, eating ramen and watching TV, was perhaps the closest thing I'd had to regular family life in the past few months. It made me realise how homesick I had been all along. Ainokura is a lovely village and I'd recommend going there if you want to spend some quality time with your loved ones as well.