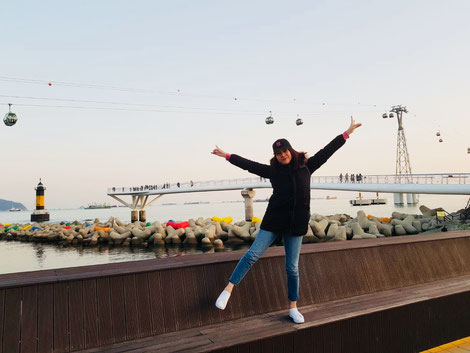 Hey guys! Today I'm going to share with you the second part of my trip - in Busan!
I went to Busan via bullet train (KTX) which took about two hours from Seoul Station. I went straight to my guesthouse and met other Korean friends. It was already five in the afternoon when we arrived in the city, so we decided to see the night view at Songdo Beach by riding the cable car and savoured the yummy street food plus unlimited samgyeopsal for dinner (so full!). J
My second day's itinerary was really packed because I only had three days in this beautiful city. My friend drove me around four famous sightseeing places for foreigners!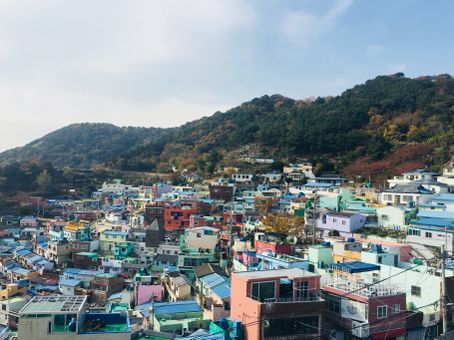 Our first stop was the bright and colourful lego-like houses in Gamcheon Village which seemed like the real- life version of Petite France in Seoul. This residential area was full of street art and crafty cafes! It also had narrow alleys and steep stairs you'd better wear your most comfortable shoes.
Then we went to Haedong Yonggung- a Buddhist temple set on the seaside. My friend told me it's mostly visited by Japanese tourists because of their love for temples and shrines. There's a golden fat Buddha next to the main sanctuary. It's my first time to visit a temple by the sea. The view was wonderful!  I highly recommend this place!
Next was the most famous and crowded beach in Busan- Haeundae. Luckily, I went there early winter so there were fewer people. We took long walks, went bird- watching, and saw the lovely sunset.      
Our last stop was at Nampodong Street. It's famous for theaters and annual movie festivals. There's also an underground shopping that sold assorted things. You could buy some stuff at discounted prices!   
I spent the third day attending my former students' wedding which I'll be sharing next time.  
Enjoy reading! J