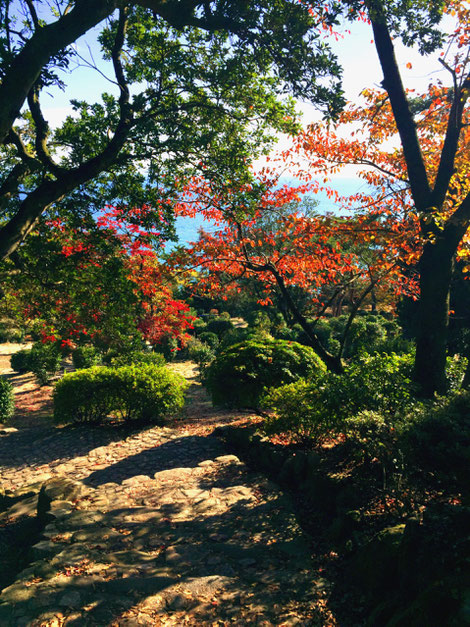 Hello everyone!
Autumn is here, the weather is getting chilly and the leaves are starting to change. I love this season, because the air is fresh and there is lots of delicious food!
Last Sunday, I went to Suma Ura park, a park on the mountainside, overlooking the sea, just to the west of Suma beach. A popular park with children, because of all the different cable cars and rope ways, and the amusement park at the top. It is also the start of the hiking trail the goes over Suma alps, Maya and Rokko mountains, all the way to Takarazuka.
Well I'm not a kid, and I didn't plan to go hiking on Sunday, but I really enjoyed the autumnal colours, and the views of the sea from the top. It was a lovely sunny day, and we could see all the way to Awaji Island, and across the bay to Osaka and Wakayama. 
Perhaps Suma Ura park is not as famous as place in Kyoto for the changing leaves, and it is definitely not as impressive. But, I really enjoyed the peace and quiet, and the beautiful views. Let me know in our next lesson if you visit any places to see autumn colours! I'm looking forward to hearing your recommendations!