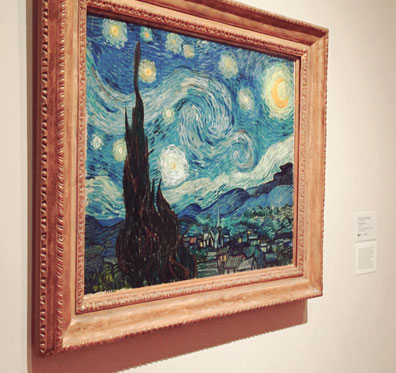 Hello everyone! I hope you enjoyed part 1 of my New York blog. Here is part 2 ♬
On Friday morning we took a ferry from our apartment in Queens to Manhattan. We bought bagels and coffee, and enjoyed our breakfast in the park. 
After a late breakfast we walked to the Museum Of Modern Art, or MOMA as it is popularly known. The special exhibition on fashion icons was great, and there were even some Japanese kimono and geta displayed. At the permanent exhibition, I was able to see my favorite painting, Starry Nights by Van Gogh. I was so happy I could finally see it in real life!!
After MOMA, we walked through Central Park all the way to Harlem. The park is 4km long, so it took us over an hour!! In Harlem we bought cookies from Levain Bakery, recommended to me by our former teacher Ian. They were so delicious! We also visited an art gallery and tried food from the south of the USA.
In the evening we went to a jazz club in Greenwich Village. I had never seen live jazz before, so I didn't know what to expect. It was very crowded because the drummer that night was famous and was recording a live album. The music was amazing and I really enjoyed the club's atmosphere.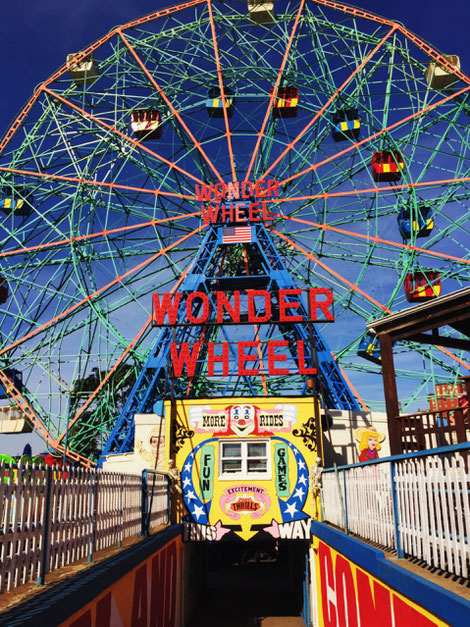 On Saturday we took the subway all the way down to the seaside, to a place in Brooklyn called Coney Island. It has a promenade by the beach, with a very old amusement park, and lots of small shops and cafes. 
The park is over 100 years old and really retro! We only tried a couple of rides because they looked a little scary, and went on the ferris wheel. We also tried beer from a local brewery.
In the evening we were very tired, so just got some pizza and went to see a film at the cinema in Manhattan.
Sunday was our final full day in New York so we spent the morning shopping for souvenirs, and presents for friends back home. We ate great Mexican food in the afternoon, and had amazing blueberry pie and cheese cake in the evening!
Finally, on Sunday evening, we went to a concert in Brooklyn. My sister had bought me tickets to Benjamin Booker's gig for my birthday. His performance was so good, and I really enjoyed seeing live music for the first time in ages!
It was really sad to leave New York, and I definitely didn't do everything I wanted to do. So I'll just have to come back again! I hope you enjoyed reading about my trip, and I'm looking forward to hearing about your travels in our next lesson!