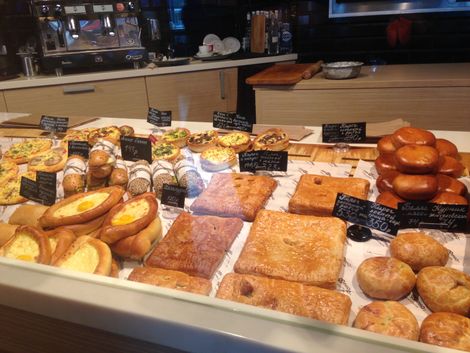 Hello everyone!
Today I'm going to tell you a little about Russian food. To be honest, one of the things I miss the most in Japan is the different kinds of baked foods we have in Russia. I mean, Japanese bread is not bad, but it is very different from the Russian one, and the same goes for most of the pies, pastries and other baked foods (except, maybe, croissants ;).
So, while I was back in Russia, I was trying to eat as much of black bread, cottage cheese pies and my mom's pirozhki as I could (gained a couple of kilos, regret nothing). Also asked my mother to make some belyashi for me – quite similar to pirozhki, but always with meat inside, round and with a small hole on top. It is very, very tasty.
If you ever go to Russia, try it. And if you're vegetarian, then pirozhki with cabbage are for you. Usually we pickle the cabbage for a couple of days and then stew it, so it would get soft and a little bit sour (tastes great!). For those with a sweet tooth there are baked pirozhki with apple jam or cherries or any kind of berry growing in the area (also great, believe me).
And if you don't believe me, go to Russia and check yourself;)