Hi everyone!
 I have just come back from my vacation in Russia where I had a great time with my family and friends. For those of you who don't know, my hometown is Novosibirsk, the third-largest city in Russia and the biggest one in Siberia. Every time I return there I feel quite unusual for the first couple of days, because everything in my hometown is different from Kobe.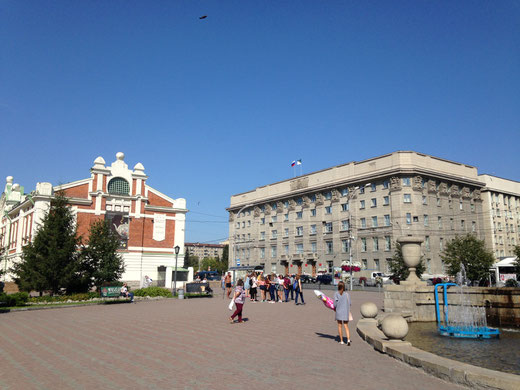 For example, there are no mountains nor sea for hundreds of kilometers in any direction – only a river dividing the city into two halves. Novosibirsk has very wide streets and a huge square with a couple of parks in its center, and in the summer the sun doesn't set until almost 10 pm. Just perfect for long walks:)
 And if you get tired you can always have a break and a nice meal in one of the numerous cafes and restaurants (every time I visit there I see more and more new places opened, one fancier than another). Or just have a picnic in a park or sit on a bench while enjoying some street performance. The only thing nobody does when the weather is good is staying at home. Siberian summers are short, so people enjoy them as much as they can.