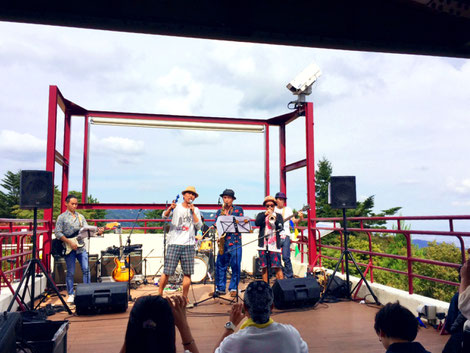 This weekend I went to a music festival on Mt. Maya called Maya Stock, which organised by my friend. It was a lovely sunny day, and as we rode the cable car and rope way to Hoshino Station, we had amazing views over Kobe and Osaka. 
The live music was in Maya View Terrace 702. Usually a cafe, it had been turned into a live venue for the event. The cafe's location is so beautiful though that I really want to go again for lunch!
Me and my friend enjoyed listening to the different acts, who were either singer songwriters, or more jazzy/funky ensembles. There were several female singers, who's voices were amazing! I was so impressed and a little jealous of their talent at the same time. 
By the time the last act had finished, the sun was setting and the lights of the cities below started to twinkle. I had a really great time, and can't wait to go again next year!
Have you been to any music festivals this summer? Or have you seen your favourite singers in concert? I'd love to hear about it in our next lesson!