Have you ever heard of Notting Hill Carnival? 
Every year, at the end of August, a huge carnival and parade is held in West London. It is the biggest street party in Europe, and only the second biggest in the world! (after Rio de Janeiro's famous festival of course)
The carnival is made up of steel bands, moving sound systems, teams of masqueraders in hand made costumes and loads of food stands selling Caribbean food. People spend the whole year getting ready for the big event, and over 2 million people attend the festival.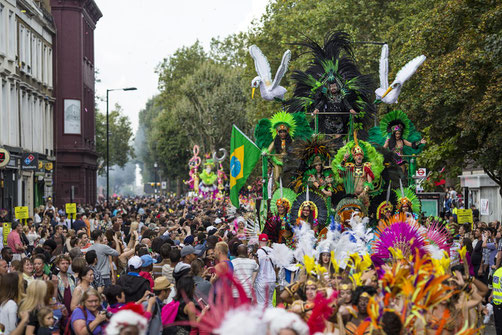 Notting Hill carnival originally started as a way to show racial unity between the different people living in London. Particularly as there had been a lot of violence and riots during the 50's over race. 
It celebrates Caribbean traditions and culture, and began in the years between 1959 and 1966. It has grown and grown in popularity each year. This year, because of the terrible fire in Grenfell Tower, a block of flats in the area, a minutes silence was held to remember the victims. 
To see more photos from this year's event, click here!