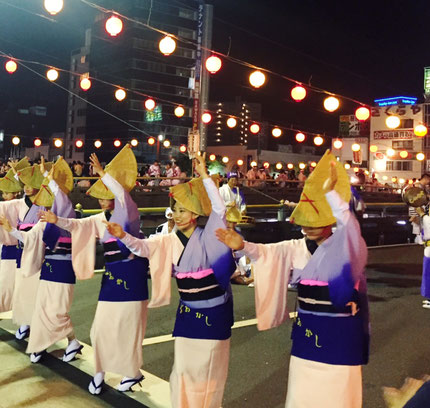 Did everyone enjoy their Obon holiday?
I definitely did! I went to Tokushima on Tuesday and Wednesday to see the Awaodori festival. It was the first time I had been to this festival, and even to Tokushima really. 
Me and a friend arrived there at lunch time, and did a little sightseeing before the main event started. We went up to the top of Bizan mountain by cable car to admire the views, and had lunch by the river. 
By about 5pm, the streets were crowded with spectators and dance groups. The dancers were men and women, from young children to elderly people. Each group had their own costume and dance routine. 
Everywhere we went we could see people dancing and playing instruments. The atmosphere was exciting, with music and shouting and the smell of food cooking.By the end of the night, most of the main groups had finished, but normal people were still dancing around the musicians. Me and my friends even joined in for a bit!
The next day we visited a workshop, where we tried Aizome, or dyeing with indigo. The dye was a little smelly, but it was fun to make. I tried dying a hand towel, and my friends did a silk scarf and a coaster. The workshop was originally a real Aizome dyeing house, and apparently Tokushima was the largest producer of fabrics dyed this way.
After that, we went to a German museum, dedicated to the prisoners of war who lived there until the end of the first world war. The German prisoners had formed a friendly relationship with the Japanese military who kept them. The Japanese leader organised lectures, activities and cultural exchange between the prisoners and local people. It was a really interesting piece of history!
Finally we had lunch at an organic cafe on a farm, before catching our bus back to Kobe. I had a great trip, and would love to go again! Tell me all about your summer holidays in our next lesson ♬