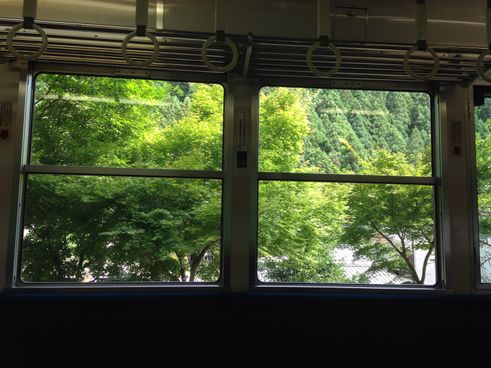 Hi everyone! How are you spending the hot summer time?
What are you doing to survive the terrible heat? In the summer, many people in Japan go to the mountains, so this Friday me and my friends decided to go to Kibune, a small town in the north of Kyoto. It is famous for Kifune Shrine, where you can get a very special omikuji, which reveals it's message only when dipped in water. It was a very fun thing to try!
Also, there are many traditional Japanese restaurants which have platforms built right over the river, so visitors can enjoy their dinner while the water flows beneath them. It looked very nice, but was overwhelmingly expensive!
So, instead of having dinner we decided to hike Mount Kurama and take the train back to Kyoto on the other side of the mountain. It was hard, because the first 500 meters were quite steep, but the beautiful view from Kurama-dera and the temple itself was completely worth it.
Before returning to Kobe I went to Nenenzaka street to try to get some coffee in the world's first Starbucks with tatami rooms and was lucky enough to get a seat. Inside it is very lovely and smells of fresh tatami and wood and looks, well, like a traditional Japanese house. By the way, a little lifehack: if you also want to go to this Starbucks, do it in the evening – it will be much less crowded 😉