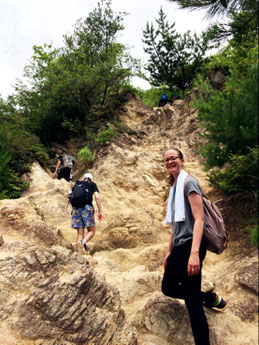 Hi everyone! In today's blog, I'd like to tell you about my hike up Rokko mountain. 
Me and two friends climbed from Ashiya to the top of Mt. Rokko and down to Arima. I have hiked this course a few times before, but this was definitely the hottest one!! We took a lot of breaks, especially while climbing the 'Rock Garden', which was so steep (as you can see in the photo). 
When we got to flatter parts, it was lovely walking through the forest, surrounded by greenery. The final climb to the top was really tough, and my legs felt so heavy, but we made it!
After treating ourselves to a beer at the small cafeteria near the top, we started the walk down to Arima. Climbing up had taken 3 and a half hours, but the walk down was much quicker, and we got to Arima less than an hour later.
After a break in a cafe, we went to the 'Gold Spring' to wash off all the sweat from our hike! I don't think I've ever felt so refreshed!
 Even though it was a hard climb, I really enjoyed hiking with my friends. If any of you try mountain climbing, please tell me all about it in our next lesson! Thanks for reading ♬