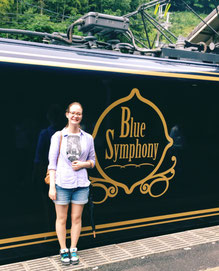 On Sunday I went on a short trip to Yoshino in Nara prefecture, so in today's blog I'd like to tell you all about it!
The reason I went to Yoshino was to ride the 'Blue Symphony' train. It runs on the Kintetsu line from Osaka to Yoshino, and has been done up with a bar and old fashioned carriages. It is popular and there aren't many seats, so I had to book a month in advance! 
Unfortunately, this meant that we had to go last Sunday even though it was pouring with rain... But luckily, when we arrived in Yoshino the rain had stopped, and the misty clouds floating around us gave it an amazing atmosphere.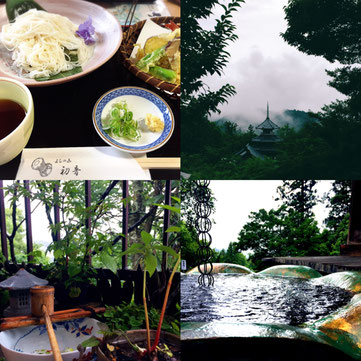 We were really hungry by the time we got there, so the first thing we did was look for somewhere to eat! Just up the mountainside was a long street with shops, small restaurants and temples.
We chose a place serving Soumen, and it had a lovely little balcony overlooking the mountainside, with lots of plants and flowers. The food was delicious, and really refreshing on such a humid day!
After lunch we strolled along the main street, visiting Kinpusenji temple and Yoshimizu shrine. Both places were very beautiful, and the wet weather really made the green summer leaves bright and shiny.
I could definitely understand how spring is the best time to come, because even in June everything was about cherry blossoms. I'll have to come back next year!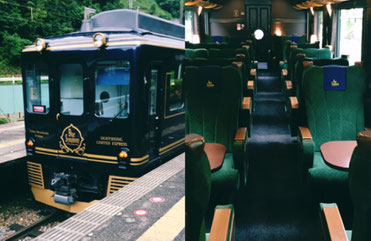 Finally it was time to take a ride on the 'Blue Symphony' sightseeing train.
As you can see from the photo, it was an old fashioned and pretty train inside and out. The journey back to Osaka was very relaxing, especially with beers and pear gelato especially from Yoshino area!
I had a great day out (despite the rain), and I hope you all have a chance to visit some interesting places too this rainy season!