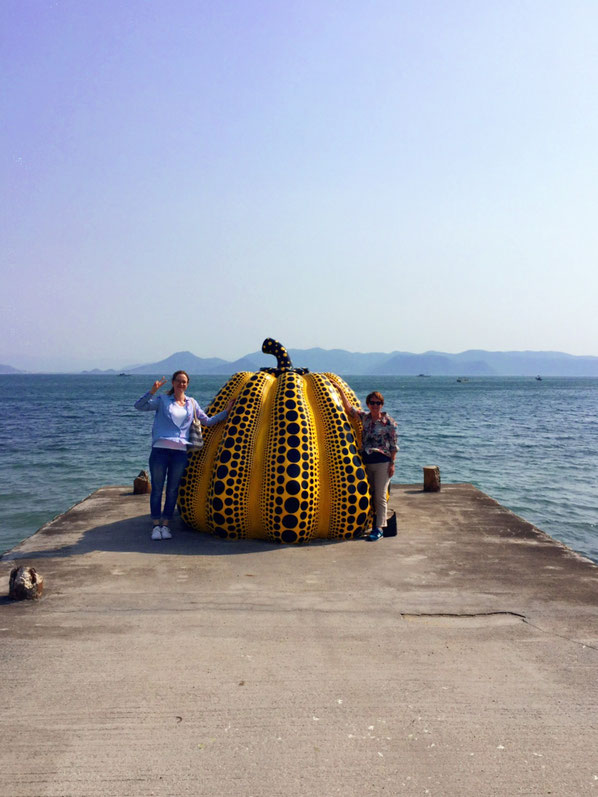 This is the final part of my blog about my parents' visit to Japan. I hope you have enjoyed reading about it!
Last week we took a day trip to Naoshima, an island in the Seto inland sea near Shodoshima. Naoshima is famous for art, and has many galleries designed by Ando Tadao.  We went there by train and ferry, and then rented bicycles to get around the island. First we visited Honmura, a village full of old wooden Japanese houses, and had a delicious organic lunch. Then, we cycled on to the museum area, paddled in the sea and saw Kusama Yayoi's famous pumpkin!
Finally we went to the Bennesse Art Gallery, which was full of modern art and amazing views of the surrounding sea. There were many famous artists works displayed, including David Hockney and Richard Long. 
Naoshima was small but very beautiful and a great place to go for people who love art!
Last Sunday was mother's day, so I took my parents out for lunch to celebrate. I live in Nada which is famous for Sake breweries, and we went to Fukuju, near Ishiyagawa station, to eat a Japanese set lunch. The food was amazing! Beautifully presented and delicious too. My father tried a few different sake's, but me and my mum stuck to soft drinks! The restaurant staff even gave us a carnation after the meal.
On the last day of their trip we went to Awaji Island. My parents had visited Hyogo Prefectural Museum of Art while I was at work one day, which was also designed by Ando Tadao. The gallery introduced his buildings, including 'Yume Butai' on Awaji Island. I had never been there either, so we decided to go!
First we went to Awaji Island park and enjoyed the views of the sea and Akashi suspension bridge. After that we walked (it's a little far so I don't recommend it...) to  Akashi Strait park. The flower gardens there were lovely, but the best part was the buildings and gardens designed by Ando Tadao. It was like a maze, and the contrast between concrete and plant life was surreal. 
I had such a great time with my parents, I was really sad to see them go home yesterday morning. I can't wait to see them in England at the end of the year!!